Open Science in Canada: Grassroots Effort and a National Approach
Canada is transitioning to open science at a great speed. The Canadian government and a myriad of other stakeholders have a strong commitment to foster open science. What is the key to the success of open science in Canada and what could others learn from Canada's approach? We asked Mark Leggott and Portia Taylor.
---
we were talking with Mark Leggott and Portia Taylor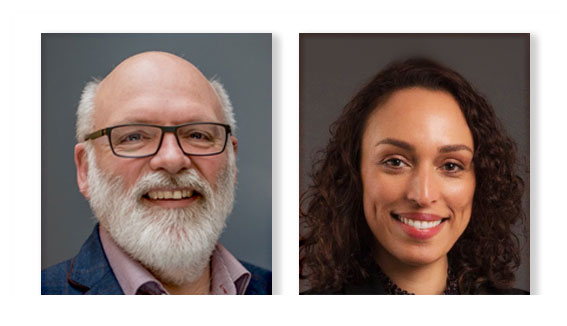 A strong commitment of different stakeholders and a national approach fuel the transition to open science in Canada. In our interview Mark Leggott, Executive Director of Research Data Canada and manager of CANARIE's RDM funding program, and Portia Taylor, Senior Policy Analyst in International Affairs, Security and Justice with the Treasury Board Secretariat of Canada and formerly part of Canada's Open Government team, tell us about the core elements of this approach, concrete actions, challenges and their learnings.
What are the core elements of your national approach to foster open data and open science in general in Canada?
The Government of Canada is one spoke in the national Open Science wheel. Canada's federal government has a strong commitment to the Open Government Partnership (OGP), the leading international body for open government. In 2018-2019, Canada is Co-chair of the OGP along with civil society lead, Nathaniel Heller of Results for Development. Open Science features as one of the 10 commitments in Canada's Fourth National Action Plan on Open Government. A number of federal government departments are pooling their efforts to implement the Open Science commitment, which focuses on bringing even greater transparency to the work of federal scientists, promoting Open Science and its value, and measuring government progress in the field.
In September 2017, Prime Minister Justin Trudeau appointed Dr Mona Nemer as the country's new Chief Science Advisor—a commitment in Canada's Third National Action Plan on Open Government. After her appointment, Dr Nemer stepped up to champion Open Science and her office collaborates with partners both inside and outside the federal government to advance this mandate.
Another positive sign of the federal government's interest in Open Science was Budget 2018's provision of $572 million for the development of digital research infrastructure (DRI) in support of research and innovation.
Research Data Canada (RDC) provides facilitation across all sectors and actors in the OS ecosystem, including the promotion of best practices in data management and the development of research infrastructure. RDC's Vision is that "Canadians have access to national and international collections of publicly-funded research data". A key strategy in affecting this is the development of the National Data Services Framework (NDSF), and how it can support a sustainable approach to developing DRI in Canada.
The work to increase the prevalence of Open Science in Canada also includes academic, non-profit and industry players whose significant results often intersect with the public sector. For example, the Tannenbaum Open Science Institute at McGill University is developing a number of approaches to promoting and doing research in the context of open science, including its impact.
What concrete actions are being taken?
The Canadian government will host the Global Open Government Partnership Summit in Ottawa for 2019 (May 29-31).
RDC recently hosted the 2019 NDSF Summit, which is intended to facilitate the development of research infrastructures in support of Open Science and emerging Canadian policy. The NDSF accomplishes this by providing: a conversational context to discuss Open Science and associated services for all stakeholders; a context in which to achieve consensus on best practices, standards and protocols; a suite of supported and interoperable services and resources.
The main public research funding agencies in Canada (known as the Tri-Councils: Social Sciences and Humanities Research Council (SSHRC), Natural Sciences and Engineering Research Council (NSERC), and Canadian Institutes for Health Research ( CIHR)) have developed a draft Data Management Policy, which would outline the steps institutions and researchers would need to take when receiving research funding. This policy is centered around 3 pillars which provide support for some of the key underpinnings of OS: creation of institutional data management strategies; creation of data management plans; deposit of research outputs into appropriate repositories.
The federal agency responsible for supporting research and the various national agencies, Innovation, Science and Economic Development (ISED), is currently working with the broad stakeholder community to define the next steps for allocation of the funds announced in last year's budget. It is anticipated that these efforts will launch in the April – June timeline.
Canada's academic and non-profit arenas have yielded exciting developments. For example, the Unniversity of Toronto recently launched two programs through funding from the Krembil Foundation, M4K Pharma and M4ND, which tackle diseases like Parkinson's. These initiatives rest on Open Science practices, the open sharing of data, and affordable pricing.
In the spirit of traditional scientific collaboration, Canada's Open Science innovations involve active international collaboration as well. Open Lab Notebooks is a cutting-edge undertaking whereby scientists around the world from Universities in Canada, France, Sweden, the UK, and the USA share their laboratory notebooks live, online.
What challenges and barriers do you encounter? How do you deal with them?
The biggest challenge in the Canadian landscape is changing the culture to support and adopt the core practices of OS, but Canada is not special in that respect. Where Canada does differ from some jurisdictions like the EU, is in the relatively nascent development of support for OS constructs, including adherence to the FAIR Principles and support for open data. Even in the context of government research agencies, Canada has a very different history of sharing data. For example, the United States has a long history of treating data and research produced by the government (and government-supported research endeavours) as open and "owned" by the people. Canada's history is different, and aspects of this history still underlie some of the approaches to making data open by default.
Canada is also a large country, especially in terms of geography, with responsibility for funding and supporting research split between national and provincial governments. Having said that, recent efforts like those of RDC and CARL Portage are contributing to a more cohesive and coordinated approach to data management and OS.
What are your experiences so far with your national approach?
The efforts at the national level have met with a great deal of recent success, including the 2019 NDSF Summit held in January 2019. The NDSF and related efforts have provided a positive context for the development of a cohesive national approach, and this will only continue as federal funding is made available. The Kanata Declaration is the latest output from this process.
Another recent example is the Funding CANARIE awarded to 9 software development projects, which were selected based on their support for the FAIR Principles and the NDSF. These projects reflect the interests of domain-specific and generic infrastructure, and the goal of building a more interoperable national DRI.
What could others (especially other countries) learn from your approach?
Canada's approach has largely been a grassroots effort, reflecting the diversity of stakeholders, including funding and service organizations. For those jurisdictions with a similarly complex "federated" landscape, the efforts emerging from Canada's strong support at the national level may well provide a model. The diversity of Canada's population, especially infused by a growing indigenous population, high rate of immigration, and two official languages (English and French) presents some possible parallels with other jurisdictions. The make-up and governance of our society also make us unique. Canada's stage in Open Science, which is in some ways early and in other ways ahead of the curve, means that we are highly receptive to international colleagues who share models that resonate. Canada's players in the national Open Science are always happy to facilitate and convene this crucial international conversations.
Our questions were answered by:
Mark Leggott is Executive Director of Research Data Canada, a stakeholder driven organization dedicated to ensuring a sustainable research data management ecosystem in Canada. Mark also manages CANARIE's RDM funding program, which launched in 2018. Prior to that Mark was the University Librarian at the University of PEI, Founder of the open source Islandora Project, and President of discoverygarden inc., a private company providing services for Islandora. Mark is passionate about open data, open science, and open source, and the benefits they bring to society.
Portia Taylor is a Senior Policy Analyst in International Affairs, Security and Justice with the Treasury Board Secretariat of Canada. Prior to this role she was part of Canada's Open Government team, and focused on Open Science, Open Data, and feminist Open Government. Portia's professional background has centered on health, international development, foreign affairs, and environment. She holds a Bachelor of Arts in sociology and Environmental Studies from McGill University (1998) and a Master of Environmental Studies from York University (2000).
Next Post
Open Science
Discussion Paper "Future Skills": Why New Skills Require New Strategies
In response to the growing need for new key skills in the workplace, universities...