User Experience in Libraries: Insights from the Digital Finna Services at the National Library of Finland
What if all materials from libraries, archives and museums, even the non-digital ones, could be found in one search engine? In Finland, this is the target with Finna.fi - a service of the National Library of Finland. In the interview, two employees present the project and explain what role UX plays in its success.
---
Interview with Riitta Peltonen and Pasi Tiisanoja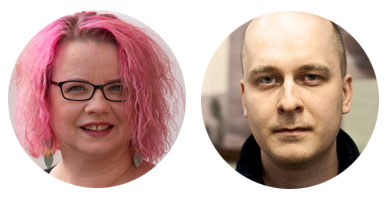 For our introduction: Can you briefly introduce the Finna services?
Finna services are a family of digital services
Finna services were originally created as part of a National Digital Library project, it has been established for several years already and continuous service funded directly by the Ministry of Education and Culture.
Today Finna services are among the most popular online service solutions in Finland. For example, 90 percent of public libraries are using a Finna online library interface. The total amount of visits to Finna services is yearly over 40 million.
The National Library is the administrator for the Finna services and is in charge of its development along with Finna's partner organisations. The content in Finna is provided by the organisations (the libraries, archives and museums – LAM) that participate in the services.
What is so special about Finna? How can it be used? Who uses it?
Finna services are unique in way how they break organisation and even industry borders. From an end users' perspective Finna.fi is one single place to look rich selection of materials related to their topic from hundreds of Finnish organisations. For example, if a user would be interested in the history of a certain place, they could find loanable books and other library materials about that place, they could find digitised pictures, maps, artwork, objects or documents from museums and archives related to that place and even information about non-digitised materials in archives related to that place. From Finnish LAM organisation's perspective Finna services facilitate innovations cross the whole Finnish LAM sector and enable co-operation cross organisations. Organisations building their own search web services on top of the Finna platform can select with just a few clicks to include materials from other Finna member organisations into their service. For example, several university libraries also show local city library materials and materials of The National Repository Library in their own search User Interfaces (UI) meant for their students.
How does Finna services fit into the context of Open Science?
Finna services contribute to the discoverability and access of publications. Finna platform-based search services in university libraries are important channels for students and researchers to search and to get access to publications. Finland is also a small language area and hence the Finnish scientific journals are not necessarily findable through international publication databases. By integrating Finnish Open Access journals to Finna.fi we add their discoverability to everyone. Universities offer theses (doctoral and master) as digital Open Access publications, and they are also all findable through the Finna.fi for everyone.
Finna.fi has a specific importance for social sciences and humanities (SSH) scholars, who use cultural heritage resources as a source material for their research. Open cultural heritage data available via Finna.fi's APIs create possibilities for data-driven SSH research. Finna's metadata is CC 0 licenced to ensure easiness of further usage e.g. in data-driven research. In 2022, Finna and its partners will also launch a service concept called Finna Reading Room which allows, after strong authentication, researchers to access cultural heritage data that includes restricted personal information.
You are working in the field of User Experience (UX) in the pure digital Finna.fi project at the National Library of Finland. When and why did you start? What does that mean practically?
Riitta: I have started working for Finna in 2017. Before that I had worked as a UX designer in telecommunication and digital B2B services for twelve years and I have a master's degree in interactive digital media. I applied the lead UX designer position in Finna services since the National Library of Finland and their Finna team gave me the impression that there you don't have to start from scratch and that there is potential to push UX practices further in the organisation. Finna services have been very pro-usability since the early years of the service. It has employed professional User Interface (UI) designers, has done regular user surveys and used usability testing companies for consulting for several years before I started there.
Around 2017 there was a moment when the organisation had to go without UI designers for a few months, but it was about getting the basic design work back up and running and then starting to look to the future and raising the aspiration level rather than starting from scratch. I have always considered that in UX you can do more in-house instead of being in consulting, inside the organisation you have more possibilities to impact and develop the practices than if you are an outsider invited to contribute just for a short time.
I do most UX processes related tasks except graphical design and frontend coding. I am at my best at user research and concepting. I do research, I facilitate workshops, I do feature design on wireframe level, I do usability testing and surveys. I am also responsible from planning the work of our UX team, I develop our UX processes, and I mentor younger designers.
Pasi: I have started working for Finna in 2017, shortly after Riitta joined the team. Before that I had worked as UI/graphic designer in several design consultancy firms for over ten years. I applied the UX designer position in Finna services since the position seemed to fit perfectly for me and I was interested in working with services which are based on Open Source. I was also interested in working with both library and museum sectors.
I do mostly UI design related tasks. I do tasks related to the accessibility and frontend coding. I undertake general UX tasks, including evaluating the results of usability tests, and turn them into a design plan to improve Finna's usability. Occasionally I participate our organisations to UI design by organising workshops for them.
What are your goals with UX? Did you achieve them? Which UX methods do you apply at Finna.fi?
Riitta: In my experience in digital development the UX acceptance roughly follows a maturity path: first, an organisation starts to use professional UI/graphical designers, next step is embracing usability evaluation (walkthroughs, surveys and testing) and after that further user engagement starts to interest and you can start push user research usage into earlier phases as well.
When I joined Finna the UI needed a visual style update and the new accessibility requirements were coming inside couple of years. So, my first goal was a major style update, we started addressing accessibility requirements and as a part of that work we started to push the organisation to use usability testing in more agile ways and build in-house capability to do it. The style update was successful, our Net Promoter Score (NPS) did a good jump up in that year. We have managed to start to do usability testing systematically (both outsourced and in-house) as part of our regular development work, and our NPS has continued to steadily climb up.
My next goal was to establish the use of user research as part of the design and strategic decision-making process. The National Library of Finland provides services to other libraries and has a lot of experience to facilitate co-creation with LAM organisations (LAM professionals) and this was true to the Finna team as well, but Finna had less experience in using end user research. Achieving this has been my goal for a couple of years and we are now at a point where we can almost say that we have integrated user research (mostly user interviews) into our concepting practice.
Can you give us a practical example that worked, where you applied UX to solve a problem?
Riitta: The first case where we suggested using user research as a part of strategic decision-making was related to replacing Finnish bibliography and discography services old OPAC UIs with a newer system where Finna was the strongest candidate for the UI platform. The decision-making was hard because no one really had up to date understanding of how the different end user groups used the services in practice, which features were most important and which outdated. User research helped the services to understand what the main use cases are, recognise future development needs, compare the platform options to the true needs of users and to negotiate with Finna what feature development was mandatory before launch and what was not. In this case, the research was purchased from a neutral consulting company.
Our first in-house user research was related to findings, that elementary and high school teachers were aware and interested in Finna.fi, but somehow, they never ended up taking the first step and really used it. We used user research to confirm that yes, the culture heritage materials are useful to schools and that the problem is that the number of scattered materials in Finna.fi feels overwhelming for teachers and that they would want easy starter packages. The findings enabled us to workshop with cultural heritage material providers (the LAM organisations) and innovate the new concept Finna Classroom (only in Finnish and Swedish available), where LAM organisations can curate readymade packages with pedagogical utilisation ideas and make the decision to pilot it. Without the hard facts from user research and co-innovation workshops with LAM organisations, we probably would not have made this decision. Since this was one of those chicken-and-egg problems where UI cannot exist without content, and content without place in UI and developing both required considerable amount of effort and commitment from both sides.
Pasi: At the moment we work with mobile usability and search filters, it is almost impossible to know without usability testing that the new solution is better or just challenging in different ways. After testing we evaluate test results and make the decision to take the new solution to the production, reject it or iterate it more.
To apply UX methods, you need library or online users who are willing to participate. How do you manage to find and motivate them?
Recruitment ways differ from one user group to another. We consider on a case by case basis, what the best channels would be. If we need a certain type of researcher or student, we try contacting university faculties directly. When we need teachers from a particular school subject, we go to their Facebook groups. If we need city library users, we ask library contacts to help with recruitment etc.
For motivating end users, we typically use gift cards from a big retail chain (they have shops around the country), and we promise workshops to have refreshments.
What are the – lets say – three most important lessons you have learned from applying user experience methods in the Finna.fi project?
Riitta:
Someone needs to have a vision what is a next new method you want to try and to scout actively for an opportunity to try it.
An organisation learns from practical experience. Finding that first opportunity to try some new method is important and the bar should not be too high for trying out new things. If something was successful, try to find another opportunity to use the same method e.g. usability testing for a second time. After a few times of positive experiences others may start to proactively propose opportunities. Try it more often and you are close to embedding it to practices.
Timing of user research is important. If it is not convenient for users to come to participate, they won't come.
Have you also used methods that did not work at all? What have been your biggest or funniest fails?
Riitta: So far, we have used basic methods: for digital development e.g. surveys, design walkthroughs, usability testing, user interviews and diary study. The failings we have had have been related to timing and user recruitment not with the method itself. Once I tried to find volunteer teachers just before Christmas which is the busiest time of the year for them. I had much more luck a month later in January. For one longer user study – also related to teachers – I thought that I have managed to invent a good and valuable incentive: participation in a conference. It turned out that the challenging part was that, although the teachers would have loved to go there, they would have needed a vacation day from their work, a substitute hired for that day and they had difficulties getting their bosses to agree with that.
What are your tips for libraries that would like to start with UX? What is a good starting point?
With digital services usability testing is always useful and it gives concrete improvement points and is a widely accepted method in digital industry so it's also easier to sell it to your management.
Read more about Finna.fi
Read more about Open Science in Finland
Read more about UX in libraries
About the Authors:
Riitta Peltonen (M.Sc. and M.THM) has worked as Lead UX designer at the Finna Services of the National Library of Finland since 2017. Before that she has worked as a UX expert in telecommunication and IT services. Riitta is passionate about developing UX and wants to push organisations to embrace UX processes more and more. She can also be found on Twitter.
Portrait: Riitta Peltonen©, photographer Marko Oja
Pasi Tiisanoja has worked as a UX designer at the Finna Services of the National Library of Finland since 2017. Pasi is excited about developing both UI and UX processes. In his free time, he enjoys running and good coffee.
Portrait: Pasi Tiisanoja©, photographer Jari Tiisanoja
Next Post
Open Science
European Open Science Cloud: Small Projects, Big Plans and 1 Billion EUR
The mishmash in relation to research data environments on a national, European and...