User Experience in Libraries: Building a Human-centric Organisation at the National Library of Estonia
Their vision is to be a next-generation library and to act as an innovator in the world of librarianship. To achieve this vision, the staff of the National Library of Estonia embarked on a UX journey where design is everything: a mindset, a method and a milestone to create services that are valuable to different user groups.
---
Interview with Margus Veimann and Jane Makke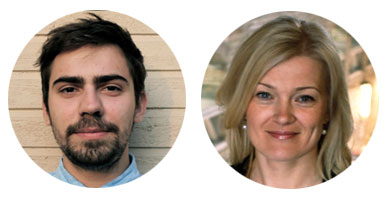 The National Library of Estonia sits enthroned on Tõnismägi Hill in the centre of Tallinn. Here, Margus Veimann and Jane Makke work in the Library Services Development Centre to make the library a user-friendly and inspiring place for staff and users. In the interview, they reveal which methods they use, what the key to successful UX is and why it is so important to change your own organisational culture first.
You are working in the field of User Experience (UX) in the National Library of Estonia. When and why did you start? What does that mean practically?
Margus: My relationship with UX began three years ago when I was working as a marketing specialist and social media designer in the National Library of Estonia. Back then the library had a collaboration project with the members of the Department of Business Administration of Tallinn University of Technology (TalTech) who were the first to introduce me to service design as a methodology. During this project the master's students of service design and marketing came to our library and got acquainted with the real services of our library, and started to solve the design tasks using the service design methodology.
The result of the project was twofold – on one hand the students were able to solve real-life problems, and on the other hand, the library got to know the service design through this process. The most valuable experience I got from this collaboration project was the opportunity to understand the value of design – as a way of thinking and as a toolbox in the service development process, also, an understanding that introducing a designer toolbox and transferring knowledge across the organisation is the way we need to go.
Our vision is to be a next-generation library and to act as an innovator in the world of librarianship through an open, inspiring, and inclusive operating environment.
– Margus Veimann
By the end of this collaboration project, it was clear that design as a mindset is a journey that we want to explore further on as an organisation who has implemented a service-based managerial model. For example, our vision is to be a next-generation library and to act as an innovator in the world of librarianship through an open, inspiring, and inclusive operating environment. But how do we achieve this vision? What are the tools, methods, and skills that would foster innovation and support the creation of user-friendly services in the library? I am sure that the user-centric approach is the key to unlock this mystery.
I think the key here is to introduce the service design as a toolbox, teach our colleagues the key principles of User Experience, as well as teach them how to use different design methods that designers and non-designers practice to achieve significant and long-lasting positive change. It is all about the willingness to experiment and keep in mind that our responsibility is to create value for the users.
Jane: Although I have been working in the library for many years, 2017 was the first time I had an opportunity to get acquainted with the concept of UX. The next time was in 2018, when I was given the task of forming a working group and try to apply UX principles to an extension of the library's website. Our team produced a rather nice prototype, taking into account that we were beginners and self-learners. The idea of having such an extension is still on the to-do list of the library and I hope that one day we end up in developing it as well. Starting from 2020, when I became the head of the Library Services Development Centre, Margus joined my team as a service designer and our cooperation began.
What are your goals with UX? Did you achieve them? Which UX methods do you apply at your library?
Margus: Which method to use depends on many different aspects of the project or problem you're facing. Would it be best to use surveys, interviews, observations/job-shadowing – to name a few. I believe that most important is to start with users and keep in mind that first of all, it is important to understand why and what kind of problem we are about to solve and what we want to achieve.
Leaving the house at an early stage and interacting with the users is a key. It is customary that we think that we know all the answers and have the best solution how to solve users' problems but usually this is the source of the failure. It is mandatory to experiment and always include user research and small learning experiments in every project. This is a cornerstone for creating services that are valuable and accessible for different user groups.
It is customary that we think that we know all the answers and have the best solution how to solve users' problems but usually this is the source of the failure.
– Margus Veimann
I truly believe that in every organisation there is a lot of good ideas and the will to do interesting things, but one has to choose. But to what to give priority to? Where to invest resources and where not? Design as a methodology and a mindset helps to create evidence at an early stage that can be used to make decisions. Secondly, you need to create value for your users, if any activity is not beneficial for the users, it is better to leave this activity behind. The third and the most important thing is to change the organisational culture. The other two goals are also important, but the day-to-day journey of innovation is to change people and culture and then to create value for our end users.
Jane: Indeed, the first and the foremost goal has been the inception of the design thinking concept as such into our organisational culture. For that, we have organised two training programmes. The last one was rather extensive involving quite a large number of our staff, including the management. However, I think there is yet plenty to do.
Can you give us a practical example that worked, where you applied UX to solve a problem?
Jane: One of the first attempts to apply UX was in 2017/2018 when the library decided to redesign the library's foyer. We started a proper UX project: interviewed the guests, partners as well as the members of the staff. We asked about their feelings when they entered the lobby and during their stay, what they value and miss the most, and how they would create the welcoming area if they had an opportunity to rearrange things by themselves. After the interviews, we built a real-life prototype for testing a new look together with our customers. As a result, we actually did redesign the lobby – the welcoming area, the information desk and the security area, they all found a new place and role. Yet it is important to mention that during the testing it became evident that the most popular solution to welcome our clients did not work out though. The constructional peculiarities of the library building have led to our staff developing health problems. So, we had to find other options. This is what the testing is for.
In March 2022, the renovation of the National Library's main building is about to begin. The doors of the main building have already been closed since December 2021, and the library is moving out its collections, staff and offices. But what did we do? We opened our doors in two new places instead – one is our new temporary main building and the other one is an outpost in one of the entertainment and shopping centres in the heart of Tallinn.
The outpost is located next to one of the largest bookstores in Tallinn and a popular cinema, there are plenty of cafes and restaurants where people can relax and enjoy themselves, and in the same building there is a concert hall as well. So, this is a wonderful place for the library to be among other businesses of similar type. The idea of an outpost was born during the design-thinking training programme. By the way, during this training, many came up with the idea of opening outposts of the library in various places throughout the capital of Estonia – starting from supermarkets and ending up with the Tallinn main railway station and even the airport.
To apply UX methods, you need library users who are willing to participate. How do you manage to find and motivate them?
Jane: This is obviously the trickiest part. Luckily, we have a group of loyal users who are willing to participate every now and then. The keywords to success are consistency and respect. If you ask for an input, you have to take it into account, otherwise you lose credit, and those who would have been willing to participate will feel left behind.
Margus: It is all about respect and empathy to truly listen and gather users' perspective.
A good practice would also be to build your own database of different users' groups. Of course, it requires some time investment upfront, but in the long run, it creates a sustainable process for finding research participants quickly and easily. In my experience, it is also important to have a strong collaboration and partnership with different organisations and companies who are willing to share your call to participate. Collaboration and empathy are the key here to build trust and also interest between different user groups.
What are the most important lessons you have learned from applying User Experience methods in the National Library of Estonia?
Jane:
To create customer value, you need to engage users. We are not users and cannot know what they actually need and want.
Keep it simple. Often users want simplicity and, those simple things to work well. But we tend to overthink and overdesign. That is why you need to validate your perceptions with the users.
If you want to engage users, you must abandon your own vision and ideas, be open and listen. Otherwise, if it appears that they want something else than you have imagined, you end up ignoring the users, which is bad taste.
Be patient and consistent. To get results, you must invest time. First, you are probably all alone in your organisation. So, you have to make your colleagues understand what User Experience is and convince them that UX might be a helpful tool. Your goal is to make them dare to test UX design. Now you have paved the road to the second milestone that is to change their mindset – when they see the first results, they start to take UX seriously and dare to trust UX, and soon it will become a normal part of your colleagues' (working) life. And finally, when they become true believers, they start to speak about UX on behalf of you. Then your mission has been accomplished.
Have you also used methods that did not work at all?
Jane: We are yet in the beginning of our UX journey. That means we have not yet experimented with all the different methods to make conclusions which methods work and which do not.
But as to the fails, I think about the situations when we eagerly engage users to get their input and then forget to use it.
What are your tips for libraries that would like to start with UX? What is a good starting point?
Jane: First and foremost, it is very important to have a sponsor to support your goals. When referring to sponsors, I mean management. If they believe in the idea, they are also willing to invest the necessary resources.
Margus: Start mapping out what are the goals and strategy of the organisation. Map existing services and identify bottlenecks that need to be addressed.
Find out the users´ needs: Interact with your users and try to find out which problems they face and what their goals are. How are the services used and what are the main concerns or problems users face?
Define/specify user needs: Map customer journeys and determine how users use your service. How does he/she get there? What are the touch points of contact along the way? If the users do not reach your service, find out why.
Identify interesting analogies: Does another organisation offer similar services? What are they doing differently?
Check out the UK´s Design Council´s framework for innovation "Double Diamond" and start experimenting and learn by doing.
And ask your librarian to put together a list of books about service design and User Experience. I would suggest to start with "Good Services – How to Design Services that Work" by Lou Downe and "The Design of Everyday Things" by Don Norman.
This might also interest you
We were talking with:
As of January 2020, Jane Makke works as the Head of the Library Services Development Centre at the National Library of Estonia (NLE). She has been working in the library sector for many years in the areas of customer service, data management and IT development. During the last years her focus has been on the design and development of country-wide library services.
Portrait, photographer: Teet Malsroos© [CC BY 4.0]
Margus Veimann is Service Designer in the National Library of Estonia . He believes that in a rapidly changing world, human-centred design has become an important component in creating successful products and services, regardless of whether we design spaces, services or products. Guided by that he would describe his job shortly as: Simplifying complexity to facilitate user-centric design solutions through co-creation that leave a positive impact on people, environment and the society.
Portrait: Margus Veimann©
Next Post
Innovation Management
Open Badges: Meaningful Credential for Continuing Education in Libraries?
Why can Open Badges be a suitable way of promoting informally acquired knowledge and...