Digital Badges: Clever Proof of Information Literacy
Libraries and digital infrastructure facilities are increasingly responsible for the learning and development of information literacy. This is however so far hardly reflected in the usual (seminar) certificates. This could now be achieved with digital learning badges. Christine Burblies explains in an interview today how this could work.
---
we were talking to Christine Burblies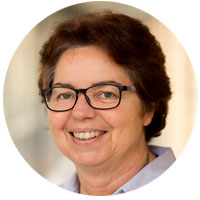 A sophisticated system of digital badges to document special achievements and lifelong learning is already firmly established in the Anglo-American world. In Germany, on the other hand, you often still look in vain for digital badges. Digital or open badges, also known as microcredentials, offer many ways of motivating learners or making hidden achievements and personal initiative visible. Together with Tamara Pianos (ZBW – Leibniz Information Centre for Economics, Kiel) and Nicole Krüger (ZHAW University Library, Zurich), Christine Burblies from the TIB Hannover has intensively studied digital badges and offered a workshop (German) on them.
What are digital badges?
Digital badges, open badges or microcredentials are digital certificates or learning badges. They offer a way of documenting certain skills, knowledge or experience – like a seahorse swimming badge on a bathing suit, only digital.
Embedded in the badge is information on the clear assignment of the issuing institution (for example the university, continuing education provider) that imparted the knowledge and awarded the badge. These "badges" constitute a special form of digital certification, supplementing classical certificates and transcripts. They can be used to highlight competencies that were previously not considered in formal certificates or were acquired outside of formal educational contexts. They can also be purchased and accumulated for small modules.
What do you need badges for? What added value do they offer?
Badges increase the visibility of competencies, including for achievements that are performed outside of the curriculum. Many of the courses offered by libraries to support information literacy impart a wide range of key competencies that are hardly accurately represented in typical bachelor or master certificates. Badges for individual skills could change that.
Digital badges also promote the motivation to learn and demonstrate personal initiative and lifelong learning ability. Their linked metadata makes the underlying evaluation criteria visible – a big advantage over traditional certificates.
For example, future employers can use the profiles in professional networks such as LinkedIn or XING to see any special skills their candidates have acquired. These certificates make it possible to react flexibly to the changing expectations on the job market. Even if you completed your degree decades ago, you can use a badge to indicate that you have recently received further training on a specific topic.
Who is already offering digital badges?
Open badges are currently mainly used in the Anglo-American world. The Khan Academy, for example, offers a very elaborate system with courses and badges available for them. Penn State University awards badges specifically for acquired information literacy skills.
Penn State's hierarchical badges model facilitates the acquisition of individual basic badges. Individual badges can also lead to the acquisition of metabadges and ultimately to a "Über Badge". People who have been awarded the "Über Badge" have thus acquired extensive knowledge and skills in various areas of information literacy.
In Germany, for example, the Haufe Akademie awards open badges for business management qualifications. The Beuth University of Applied Sciences Berlin has awarded what it refers to as BeuthBadges for language, team play, leadership, management, social media and intercultural competencies in a project since 2013.
Digital badges have rarely been found in German libraries to date. Some university learning management systems offer their own badge awarding modules, for example for Massive Open Online Courses (MOOCs).
Where are digital badges headed?
Many details still need to be clarified before badges are widely accepted as legitimate indicators of education, skills or experience.
Blockchain technology will have to be included in the development and distribution of digital badges going ahead in order to create secure and decentralised storage locations for certificates. Blockchain usage enables a kind of "notarial authentication" of certificates and diplomas for universities, thus excluding any kind of forgery.
Digitization opens up numerous opportunities for acquiring a variety of skills through MOOCs or online seminars. The presentation of competency certificates will probably also see dramatic changes in the future.
It is still too early to say whether employers will recognize badges as trustworthy references in the future. Acceptance will also depend on the degree of quality control of such certificates and on how universities and educational institutions cooperate with each other as well as with labour market stakeholders.
Broad acceptance of badges requires interoperability and standards. It should be possible to collect badges from different providers on a single platform or profile. The metadata linked to the badges must also show relevant quality indicators: Which institution issued the badge? What was necessary to acquire the badge: a course over several weeks or a short event? Did an exam have to be taken? And so on. It is conceivable that badges could, in the near future, serve as an opportunity to talk about soft skills and interests in a job interview that might otherwise not come up.
Whatever the future holds for the badges, they certainly offer an opportunity to supplement information from diplomas that quickly become outdated and to make otherwise hidden achievements visible.
This might also interest you
We were talking to Christine Burblies.
Christine Burblies (M.A.) has been head of the Information Literacy department at the TIB in Hanover since August 2014. She studied German and English language and literature as well as journalism at the University of Göttingen. She then worked in a publishing company and as a freelance trainer in the book trade and publishing sector.
Next Post
Open Science
Opscidia: Fighting Fake News via Open Access
In recent years, fake news has become a growing problem in the international...