Blockchain: Could Libraries and Open Science Benefit from this Technology?
At least since Bitcoin began its rally, blockchain technology gained a lot of attention. Jason Griffey, technology consultant for libraries and Affiliate Fellow at the Berkman Klein Center for Internet & Society at Harvard University, sums up what blockchain is and how it could be useful for libraries. He also outlines possible first steps for libraries.
---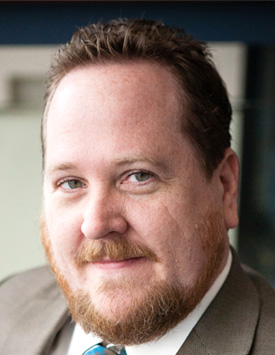 The blockchain technology is among the trend topics that could have a major impact on libraries. Jason Griffey works on technologies that provide open and robust access to information for the future. In this interview he shares his view on blockchain, which is among those technologies.
How can blockchain be useful for libraries?
The blockchain is, at the core, just an information storage system. It's an information storage system with some very unusual properties (multiple untrusted authors, provable authorship, automated consensus, decentralization of content), and it's in those properties that its use is found.
It's not obvious what the best uses might be, but a few somewhat obvious ones might be provenance tracking or media rights management. I personally think that it might be interesting to prototype a metadata or cataloging system that stored its information in a blockchain, and used cryptographic signing to allow for selective retrieval.
Which role would suit libraries in a world of blockchain and how would this affect their services?
Blockchain is a technology stack, with advantages and disadvantages like any other technology. Libraries role is likely to be as users or developers of the tech, but I don't think it would necessarily affect library services at a fundamental level.
How can blockchain be of use for science, especially in fostering open science?
As a storage media for information, or as a programmatic platform, blockchain has potential to be used in place of existing technologies where decentralization might be advantageous.
Which are the biggest challenges libraries face relating to blockchain?
There is still a considerable technical hurdle in developing new technology on the blockchain, and it isn't clear that libraries have the in-house talent to do this technological development.
How should libraries get involved with blockchain now? Which first steps would you recommend?
The first step is to inform themselves about the potential, and to be aware of technology companies that are using blockchain as a part of their development stack. New services and platforms such as blockstack, IPFS, and other media-driven decentralized technologies could be very interesting for libraries. Funding experimentation inside libraries, and supporting innovative individuals that have an interest in emerging technology would help libraries prepare for this potentially disruptive technology.
Our questions were answered by: Jason Griffey.
Jason is the founder and principal at Evenly Distributed, a technology consulting and creation firm for libraries, museums, education, and other non-profits. Jason is an Affiliate Fellow at the Berkman Klein Center for Internet & Society at Harvard University, where he studies hyperlocal micronetworks such as his LibraryBox project and works on technologies that provide open and robust access to information for the future, such as blockchain and other decentralization technologies. More information about Jason can be found here.
Next Post
Open Science
Art of Hosting: Operating System for Open Science and Citizen Science?
The Art of Hosting comprises the attitude and appropriate methods for creating a...