Online Events: Mastering Hurdles on the Path to a Digital Future – the Example of the YES! 2020
2020 has presented major challenges for many event organisers, including those organising the school competition YES! – Young Economic Summit. Sina-Marie Heuchmer and Svea Kreutz from the YES! team chat from the sewing box and tell us about the technical challenges they have faced, how they managed to create the special YES! atmosphere, the YES! spirit, online and which success factors they identified.
---
by Sina-Marie Heuchmer and Svea Kreutz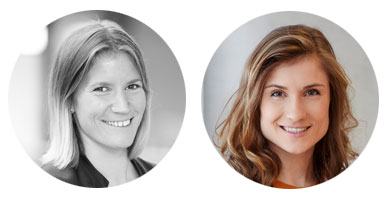 The YES! – Young Economic Summit has been running since 2015. The school competition is organised for students in the grades 10-12 by the Joachim Herz Foundation and the ZBW – Leibniz Information Centre for Economics. We reported on the YES! project and its development here. Since we are often asked for details of how we succeeded in transferring the event, which had been run in person until now, over to the digital world, we will now provide you with some information regarding the factors which made the journey to the digital YES! final, including the atmosphere and space for networking, into a success.
Involvement of stakeholders
This kind of transfer is not only implemented by the organisational team but also additional involves the stakeholders. For YES! that includes the school teams, the researchers, our partners, invited experts, guests and other interested parties. The 100 or so participants in the final were to be involved interactively in the process with as low an inhibition as possible and not just become passive spectators of the final. Zoom was selected as the video conference tool.
Target setting
All elements of an event must correspond to a previously clearly-defined conference goal and the target groups. For us, it quickly became clear that, in addition to knowledge transmission in the form of solution concepts, the primary goal was to facilitate networking and exchange between individuals in as tangible a manner as at an on-site conference. This was the basis upon which we designed a concept for our event.
Necessary technical expertise
A few key questions need to be clarified before technical implementation: how much technical expertise can the stakeholders be presumed to have? Can the technology handle this many participants? Do the participants know what to expect and do we as the implementation team?
To clarify this, multiple internal rounds of testing were carried out, sometimes even with other colleagues from the ZBW. In addition, responsibilities for technology, participant management, presentations and breaks were defined in advance. It is helpful to note down the event programme as a kind of script including stage directions.
Data protection and technical briefing
Before a technical briefing document is distributed, all questions regarding data protection should be clarified. Digital involvement of high school students who are minors requires particular clarification. Our data protection officer was involved on this point. The focus was primarily on questions regarding specific technical settings. Are live recordings possible, for example? Can we require the participants to turn on their cameras? Can the chat be publicly accessible to everyone? Should a waiting room be created to control entry to the conference?
In a technical briefing we informed all those involved about these measures, explained the course of the event and the key functions of the conference tool. For this purpose, it was primarily necessary to gain an understanding of the conference participants' user behaviour: which devices will they be using to participate, for example?
Digital implementation of the conference
Our format essentially mirrors that of a traditional scientific conference. Our speakers and the participating school groups presented their solution proposal in the form of a presentation using the share screen function. Then a podium discussion took place, in which all school groups and invited experts from Germany and abroad participated. The event was hosted by two experienced presenters. To make the YES! final as professional as possible, we considered various technical elements and social interaction options.
To create the sense of being at a conference, we prepared various presentations, such as introductory videos and break videos. A vision mixer was useful for this as it enabled us to switch between presentations and video sources quickly and integrate special effects such as music. This allowed us to integrate a timekeeping concept which was visible to the school groups as a countdown during the presentations.
Another important function for creating a podium feel is the spotlight. It allows the event hosts to place visual emphasis on the people who are currently playing an active role. The speaker view is required as a basic setting for this in Zoom:
During the discussion following the presentation, we asked the school teams to use the raise digital hand function or write their questions publicly in the chat. This enabled us to respond to questions and comments straight away.
Networking via facilitation
One of the main goals of the digital final was social interaction between the participants to create that typical YES! spirit digitally. For this purpose, icebreaker exercises were introduced in the breaks and separate breakout rooms were created for sub-groups.
We asked ourselves the following questions in advance to find suitable methods: How can all the participants get to know one another? How can we involve them most effectively and keep motivating them to concentrate at all times? How can we equalise the event?
In addition to having lots of our own ideas, we got support from a digital facilitation training. This taught us, among other things, methods that lead to more community feeling in digital conferences.
Specifically, we applied a networking technique to reflect the COVID 19 year. The high school students were asked to depict their experiences, thoughts and significant moments artistically in breakout rooms, each with two teams. This enabled them to present their results to the respective other team and then discuss them afterwards. We included the resulting pictures on slides during the breaks.
Breakout rooms create a sense of being at a conference
As another networking option, we created breakout rooms for various topics after one of the conference days: a dancefloor, quiz room, bathroom and chillout lounge. The dancefloor and quiz room were moderated and both of the other rooms were left free for networking. This meant that the high school students had the opportunity to switch rooms independently, dance, puzzle, chat to each other and thus get to know each other better in a relaxed atmosphere.
We also included so-called warm-ups and energiser sessions in the conference itself. These are relaxation exercises to activate the participants' motivation and concentration. This includes fun methods, such as the question about their current mood animal or energy level on an energy scale, which reflect their motivation level and how they are feeling on the day.
Building blocks for the successful implementation of online events
These networking methods had a major impact on the atmosphere. Extensive preparation was also decisive. The various actors and a team made up of people with organisational skills, technical expertise and a love of the digital world contributed to transferring our format, which is very successful in person, over to the digital world and to bringing the YES! spirit to life.
Follow the YES!:
This might also interest you
This text has been translated from German.

Sina-Marie Heuchmer is junior project manager at the YES! – Young Economic Summit at the ZBW - Leibniz Information Centre for Economics. She completed her training as a specialist for media and information services - library subject area at the ZBW and also successfully completed her state-certified business studies at the Schleswig-Holstein Academy of Economics.
Portrait, photographer: Kai Meinke©
Svea Kreutz is a  project manager with YES! – Young Economic Summit at the ZBW – Leibniz Information Centre for Economics. Alongside that, she is studying Digital Management and Transformation. She previously worked for DER SPIEGEL publishing house and studied Socioeconomics at the Kiel University.
Portrait, photographer: Timo Wilke©
Next Post
Open Science
Digital Open Science Tools: How to Achieve more Openness Through an Inclusive Design
Through their responsive design, digital Open Science tools promise to enable and...