Exhibition Open UP! How Digitisation is Transforming Science
The range of tasks carried out by academic libraries has changed enormously. But how can you offer the public an up-to-date picture of the work of libraries, work which nowadays also includes open science? On the occasion of its 100th birthday, the ZBW – Leibniz Information Centre for Economics has opted for the format of an exhibition: "Open UP! How digitisation is transforming science".
---
by Birgit Fingerle and Dr Doreen Siegfried
As digitisation gathers pace, libraries are being transformed into the first point of reference for a knowledge-based society. And yet, this is not a change with which the public automatically identifies; many people still think of libraries as analogue places for printed material. It is because of this gulf in understanding that scientific infrastructure service providers often have to go to considerable lengths to explain their current profile. If they are to successfully communicate their relevance, they will have to ensure that their various stakeholder groups fully understand the digital transformation of libraries.
Travelling exhibition aims to bridge the gap
To bridge this gap, it is important to present complex issues from science and information infrastructure in an interesting and comprehensible way. The following piece uses the example of the travelling exhibition "Open UP! How digitisation is transforming science" to explain how these issues can be presented comprehensibly by means of an interactive exhibition.
The context in which the travelling exhibition is taking place is the celebration by the ZBW – Leibniz Information Centre for Economics of its 100th birthday in 2019.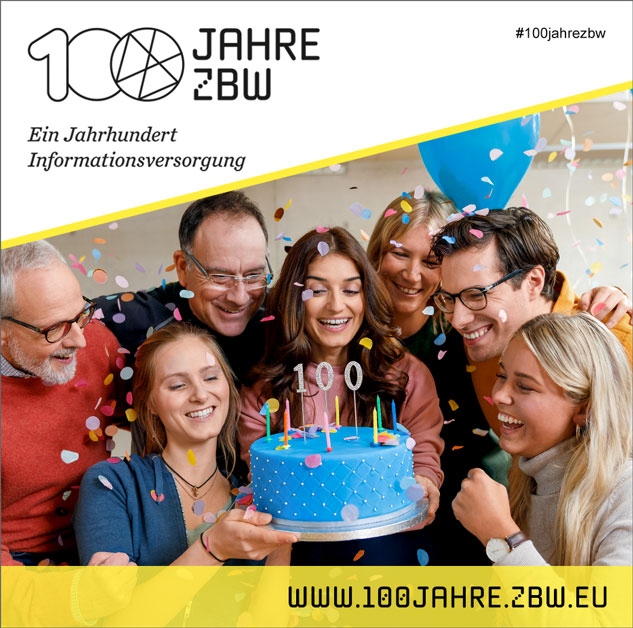 It has been on the road since 4 February and will continue to tour Germany until 17 December 2019; its target groups are members of science, such as researchers in economics, academic partners in cooperation and research projects, libraries and sponsors. On the other hand, the ZBW is also seeking to address non-academic parties, such as interested members of the public. The latter are being offered an opportunity to take a look behind the scenes of the scientific establishment.
The exhibition consists of three thematically grouped islands.
Exhibition segment "Digital networking"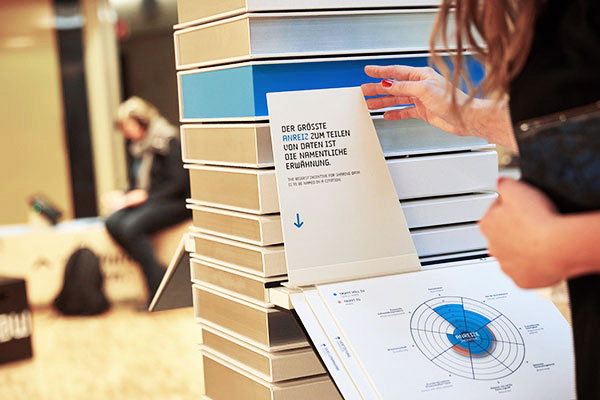 The aim of the "Digital Networking" thematic island is to tell visitors about the infrastructures the ZBW is developing across Germany for research data management, how data sharing is being promoted and how researchers can be supported in their handling of research data. Its content is as follows:
The individual views of researchers on the sharing of research data and research results on the questions "What can be done to promote the sharing of data?" and "Which role is played by the personality of the scientist?"
The social benefits of open data in general and problems and facts related to open research data as well as the benefits of open data in research for society.
The major trends in science policy, the role of open science, the role of libraries in particular, and what the digital revolution means for the scientific establishment.
What the GOFAIR Movement is all about, and its initial successes.
Presentation of a project to develop a networked research data infrastructure which will for the first time enable researchers to systematically search for research data across disciplinary boundaries (GeRDI – Generic Research Data Infrastructure ). In an interview, Anja Busch explains (interview in German language) how to develop a generic research data infrastructure.
Exhibition segment "New Types of Publication"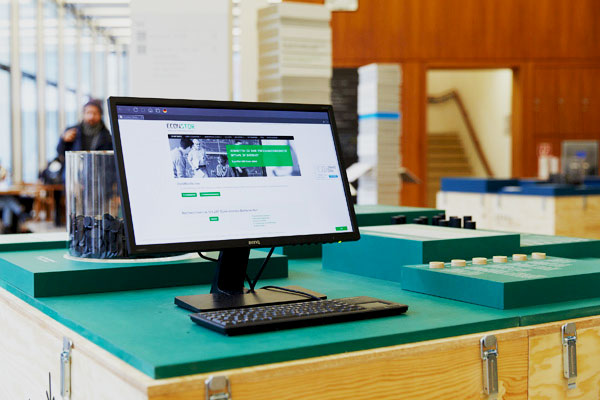 How would it be if the public freedom of academic information were an internationally recognised right? What would the world be like if open access were the predominant form of publication in science? And what would be different if scientific effectiveness were no longer measured solely by publications and citations? Visitors to the "New types of publication" thematic island will be presented with the results of the ZBW's research into alternative performance indicators and its testing of new ways to provide fair access to research results:
How social media are changing science, how researchers use social media in their daily work, and what types of social media are to be found in science.
What are the various crises which are currently besetting science, and how Altmetrics will make it possible to measure scientific performance more comprehensively in the future.
Visitors are invited to become researchers themselves as part of an experiment and can assess and organise publications based on the associated metrics. An interview with Steffen Lemke on the background of the experiment is available online (interview in German language).
How access to research results can be opened up, given that the traditional academic publication system still restricts its readership to institutions with cash-rich libraries, with the consequence that interested members of the public without access to libraries are left out in the cold.
How performance measurement works in our current academic system, which elements of it are out of date, and what performance measurement might look like in the age of open science. Athanasios Mazarakis, a gamification and motivational expert, explains in an interview (interview in German language) which incentives might be used to promote open science.
How EconStor, as an established infrastructure for free publishing in economics, is making it possible to read scientific research results online free of charge and participate in science.
Exhibition segment "Finding literature"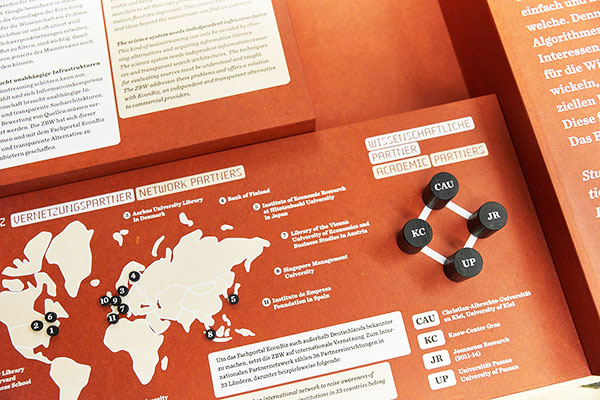 The number of scientific publications worldwide is doubling every nine years or so. In economics alone, there are more than 50,000 publications a year. To find ways of coping with this volume, the ZBW is conducting research into how large amounts of data can be accessed, intelligent behaviour automated and meaningful recommendation systems designed in the field of artificial intelligence:
How to use automatic procedures to efficiently describe the content of literature in the economics field. Anna Kasprzik explains in an audio interview (interview in German language) how humans and machines can work together to reconcile the needs for quantity and quality.
How a machine can automatically compare texts so that readers can see if a text has something new to offer them.
What are the trends in knowledge creation, which countries are producing particularly high volumes of publications, how fast the number of scientific journals is increasing, and how many publications are currently circulating worldwide.
In an experiment, visitors become researchers themselves and are asked to decide which publications they consider to be scientific and which they do not.
In what specific ways digital transformation is taking place in the ZBW.
How EconBiz presents a research-based solution from the ZBW which is offering business researchers and other interested parties transparent access, independently of commercial interests, to scientific literature, in a manner which is both simple and free of charge.
An extensive management programme at the guest locations for different target groups will allow them to enter into dialogue. There is also a free accompanying booklet entitled "What is Open Science?".
If you would like to read the background literature, you can download a curated list of reading recommendations.
Additional information:
Audio tour through the exhibition (in German language)
You can visit the travelling exhibition here:
Munich, 24 June to 18 September 2019, Deutsches Museum – Library (link in German language)
Hamburg, 23 September to 17 December 2019, ZBW – Leibniz Information Centre for Economics
Next Post
Innovation Management
Waterkant Festival 2019: A Blueprint for a Lived Culture of Innovation
What does the library of the future look like? Can AI read? Are businesses really...