Amazon.com startet Lehrbuchverleih für US-Studierende
---
Im vergangenen Jahr hatte Amazon.com den Verleih von Kindle-Lehrbüchern für Studierende gestartet, nun zieht der Versandhändler noch einmal analog nach: Wie Amazon pünktlich zum US-Semesterstart per Pressemitteilung bekannt gab, können nun auch gedruckte Exemplare per Fernleihe bezogen werden.
Das Angebot heißt schlicht "Textbook Rental" und beinhaltet eine Reihe attraktiver Konditionen. Hier das Angebot im Überblick:
Der Versand der Bücher ist kostenfrei, solange ein Bestellbetrag von 25 Dollar erreicht wird. Die Rücksendung der Bücher ist immer gratis.
Die Leihdauer beträgt 130 Tage. Das jeweils ausgeliehene Buch kann zudem bei Bedarf jederzeit per Klick gekauft werden.
Amazon versendet neue oder gebrauchte Bücher, die sich im akzeptablen Zustand befinden. Bei Nichtgefallen gibt es eine dreißigtägige Geld-zurück-Garantie.
Studierende dürfen Notizen und Markierungen in den Büchern vornehmen, jedoch nur in dem Umfang, dass spätere Kunden sich dadurch nicht gestört fühlen könnten.
Nach Ablauf der Leihfrist berechnet Amazon eine Gebühr und gibt den Kunden weitere 15 Tage Zeit, um das Buch zurückzusenden. Erst danach wird Säumigen der volle Preis des Buches berechnet.
Amazon verspricht, dass Studierende mit "Textbook Rental" bis zu 70 Prozent verglichen mit den sonst üblichen Lektürekosten sparen können.
Das Angebot gilt derzeit nur für die USA.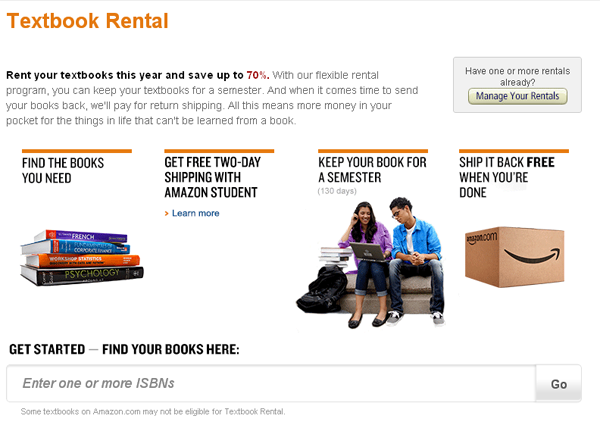 Next Post
Uncategorized
Thoughts beyond Boundaries: CC0 for Library Data – Publish then Perish
The Linked Open Data Cloud is a global network of semantically interconnected data...