Über die Sperrpolitik bei Google Plus
---
Am vergangenen Wochenende wurde die ZBW auf Google+ gesperrt – kein großes Drama, immerhin haben wir das Profil in dem Wissen angelegt, dass wir damit gegen die Terms of Agreement verstoßen. Erlaubt sind lediglich natürliche Personen: Unternehmen oder – wie explizit erwähnt wird – Haustiere haben auf Google+ derzeit nichts verloren. Dennoch wollten wir uns (wie viele andere) die Gelegenheit nicht entgehen lassen, einen ersten Testballon zu starten. Und das Ergebnis kann sich sehen lassen: innerhalb weniger Tage wurde die ZBW in rund 500 Freundeskreise aufgenommen. Google+ nimmt in Deutschland an Fahrt auf, laut ComScore haben bereits 710.000 Bundesbürger einen Plus-Account. Ich habe daraufhin Google noch einmal kontaktiert – aus Neugier, nicht aus Empörung – und folgende Antwort bekommen:
Thank you for your appeal. We are unable to approve this profile as it represents a non-user entity (e.g. business, organization, place, team, etc.). Our team is actively building an amazing Google+ experience for non-user entities, and we will have something to show the world later this year. We just ask for your patience while we build it. In the meantime, we are discouraging non-user entities from using regular profiles to connect with Google+ users.
Doch das Schicksal traf nicht nur uns. Bis heute sind reihenweise Unternehmen und vor allem Medien mit bereits großer Reichweite der Sperrpolitik zum Opfer gefallen. Einen interessanten Fall von gestern Nacht möchte ich gerne hier näher beleuchten.
Donnerstagabend gegen 22 Uhr traf es das Tech-Blog Mashable, mit immerhin über 100.000 Freunden. Einige Zeit passierte gar nichts, dann meldete sich plötzlich Mashable-Gründer Pete Cashmore zu Wort:
We chatted with the Google+ team today about their plans for branded accounts, and we've both agreed that while the Mashable community is very engaged on Google+ and we all have great fun joining discussions here, it would be better for Mashable to wait for branded profiles to launch officially before having a company presence on here. Mashable will be launching a new business profile and building it up from scratch once business accounts are available.

This account will continue to exist, but going forward it'll have my name and picture, and I'll continue to post here.
Diesem Trick begegnet man nun häufiger auf Google+. Anstatt das Medium als eigene Entität auftreten zu lassen, werden Repräsentanten bestellt, die unter ihren eigenen Namen die Pflege der Freundeskreise übernehmen. Das ist ein Prinzip, das tatsächlich mit den AGB von Google vereinbar ist.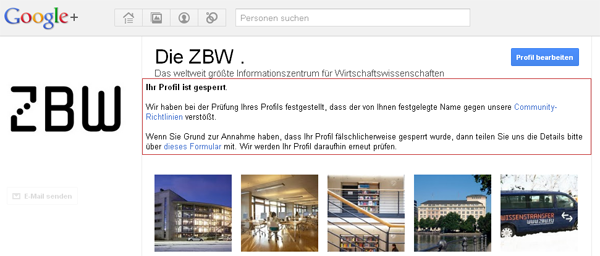 Wie auch immer: In den USA sind viele Unternehmen mittlerweile stinkesauer auf Google, das Wort von "Fucktard+" macht die Runde. Die Suchmaschine versucht sich derweil, mit Ankündigungen bezüglich der zu erwartenden Business-Pages imagemäßig über Wasser zu halten. Der Launch der Seiten wird aber wohl erst in den "kommenden paar Monaten" geschehen. Google will sie dann nicht nur ausgewählten Testteilnehmern, sondern "allen" zur Verfügung stellen. Warten wir es mal ab. Derweil versuche ich zu klären, ob wir mit der ZBW ebenfalls per natürlichem Repräsentaten das Profil neu eröffnen.
Next Post
Uncategorized
Google Books: Richter Chin setzt Deadline für eine Einigung
Wenn man der Nachrichtenagentur Reuters Glauben schenken darf (und das kann man...